I know it's taken me a while to get this going, but here was my final entry in SoYouThinkYou'reCrafty – – –
Now, I made this skirt for non-sewers – really! This is A SEWING PROJECT FOR THE SELF-PROCLAIMED NON-SEWER. I want everyone to know that they can tackle simple sewing projects and have fun creating with a sewing machine. The skirt is easy – just one rectangle and a little straight-line stitching. It has a faux-waistband, so you don't have to mess with figuring out how to make a real waistband or put in buttons or zippers – this skirt is just elastic.
Sorry about the above pictures – by the time my Kindergartner got out of meeting with a reading club, it was near-dark so the pics are being lit by a street light. Not to mention it was freezing – you can see that with the huddled-neck of my youngest daughter. Here's some details in normal light:
My guesstimate on cost for these skirts (including the coordinating bib necklace) are about $6 a skirt – what a deal, right? Want to whip one up for that holiday work party?? Or make a coordinating set like me so you can WOW everyone when your family walks into church?? (and when they ask – did you make those?? – you can proudly say, YES I did!)
Thanks so much for sticking with me all Season long, and for letting me be a part of SoYouThinkYou'reCrafty – it's been great!
A quick how-to:
First measure. For your waist measurement, be sure it's big enough to fit over your whole lower half. I hold my measuring tape in one spot and try slipping it up and down like I'm trying it on – if it's hard to fit the circle over your booty, then it'll be hard to fit the skirt over it 🙂 Then add 1 inch for seams. You'll also need to measure from your high waist to a little past your knee – add 2 inches to this for hemming.
Cut out a rectangle according to your measurements. Then make the rectangle into a tube and sew up the seam in the back – yep, just one seam. Then hem the bottom. That means turn under and iron the bottom edge just a little (about 1/4 inch). Then turn it under and iron again (maybe 1/2 inch this time) so the rough edge doesn't show. Sew into place. Hard to tell, but here's the picture:
For the top "casing", aka, place where the elastic goes, do the same thing except leave an opening so you can thread the elastic through. Measure your elastic to fit your waist – it will fit over your booty because it stretches. And that's a basic skirt.
Now, to make it more fabulous, add the snowballs. I pinned on a whole row around the bottom and then randomly put some coming up one side.
To make the snowballs, cut a strip of tulle. Then put your finger on one end and wrap the tulle around – think of how you wind a yo-yo – the string goes around the outside edge. I've made lots of various kinds of fabric flowers, but this is the best way for this project because you want them to be kind of flat but still have fluff.
Hold it in place and then pin it onto the skirt. Then use the sewing machine to sew an "X" on every snowball – not hard, just takes a little time.
Finally, make a sash by sewing a tube of fabric as long as you'd like the sash. Turn it right-side-out to hide the seam. Then sew the middle of the sash to the side of the waist of the skirt. Then when you wear it just tie it on the other side, so that the sash comes across the waist and hides the elastic, making it look like a sewn-in waistband.
For the bib necklace I just made some of those flat tulle flowers along with some rolled flowers from the scraps of my skirt. Some I even rolled the fabric and tulle up together for a combo. Then I hot-glued them on to some felt and cut around the glue-on parts so you can't see the felt from the front. I glued on beads and jewels I had laying around, and I even glued on the ribbon. It just ties around your neck.
That's it!! You can DO this – really!! All the sewing things were straight lines. No zippers or buttons.
I know the instructions are probably lacking, so please let me know if you have any questions and I'll try to explain things a little better for you. – – Mandy
Oh, and I'm using this to enter Crafting With the Stars (yes, I might be slightly addicted to craft blog competitions…..)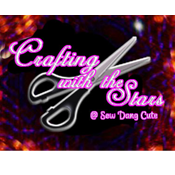 Thanks for checking out this post from www.SugarBeeCrafts.com – – click on over to read it in its entirety – you'll love it!