I'm still trucking along with my dining room makeover- my dad stopped by yesterday so I showed him my stenciled walls and he's all "well, that's…..something. And what's with that ugly chandelier outside?" – I'm not sure he caught my vision 🙂
But anyways, on to what you've been up to….
You can see a great front porch redo over at Saving 4 Six – tear out and before pictures, etc – looks great now!
Small Things with Love shows how to transfer a photo onto wood – that's on my to-do list!
It has been olympic fever in our house – I need to whip up my girls some of these headbands shown at Hubby Made Me – you won't believe how easy it is: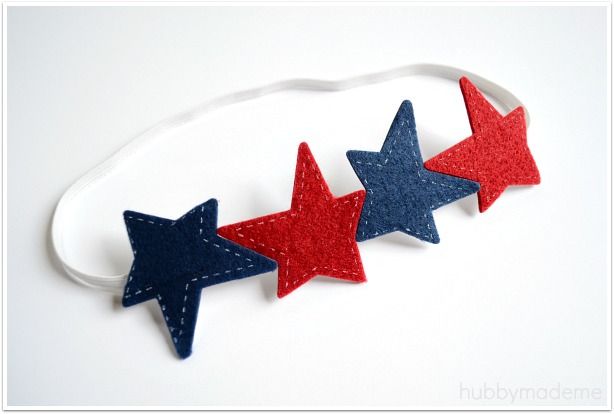 Check out the cuteness of this crocheted elephant – – I love it!! See it over at The Philosopher's Wife:
This Prepster Pullover from Melly Sews is awesome – she's an amazing sewer!!
Seeing this makes me want lemonade right now! Great sign tutorial over at Burton Ave:
I am in love with this rainbow quilt from Crafting in the Rain – – so cute!! and it doesn't seem that hard to do:
After seeing these at Love, Pomegranate House, I think I need to paint some pots – so cute!
Vintage rulers were such a great idea for a light – see it over at Something Created Everyday:
If your kiddos are bored and you need a last-minute summer craft, how about making rock monsters – the tutorial is over at Coast Inspired Creations:
Can you believe these curtains from The Creative Imperative were only $6 – she used tablecloths – so smart!
and………most viewed link…………….
the Kitchen Cabinet redo from Wayward Girls Crafts:
Thanks for linking everyone!! If you were featured feel free to grab the button: (oh, and if you were featured on FB, or if you're featured later this afternoon, you're included – grab away!!)
Thanks for checking out this post from www.SugarBeeCrafts.com – – click on over to read it in its entirety – you'll love it!