What an awesome link party – – wowza! Let's check out these awesome projects and see if YOU were featured…
Bev over at Flamingo Toes is the queen of jewelry knock-off – – this one with the pom poms is even awesomer than the original – I love it!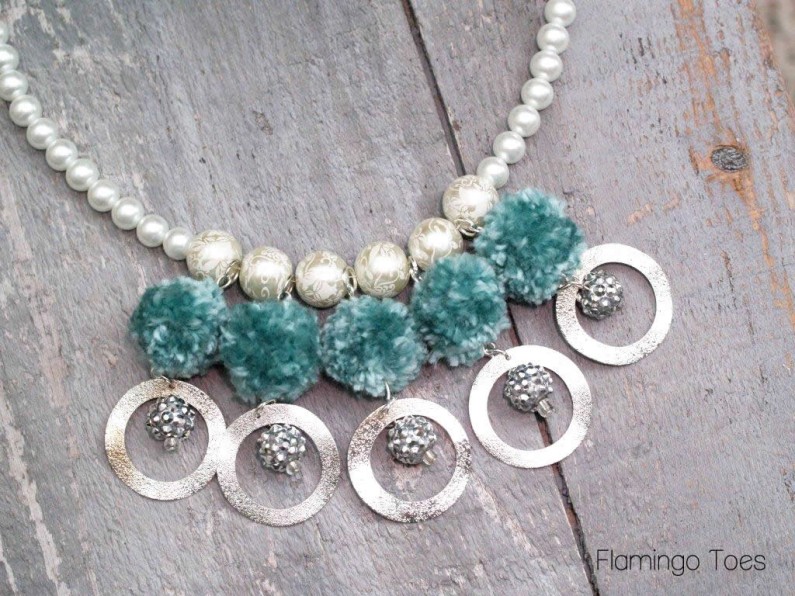 mmm, did you see these over at A Pumpkin and a Princess – I'm weak for mint ice cream…. must make these!

An old ladder, cut and used as display shelving – genius! I LOVE this, over at OneKriegerChick:

I refashioned some tshirts just yesterday, so this shirt-to-dress from Diary of a Mad Mama caught my eye:

I am all over loving the arrows added to this Gallery Wall at Girl Meets Glam – – it's the perfect finishing touch!
Want to make some super easy bibs? Check out Made it on Monday – so cute:
Crochets flowers from Happy in Red – they ARE so happy:
Find this cute bag over at Monkey See Monkey Do:
After my heart-stamped cardigan, I'm sold on all things stamped – next I want to try jeans, like The Pretty Life Anonymous:
I have done my share of crafty things, but I've never mod podge transferred an image to a shirt – it's on my to-do for sure! Here's an awesome one from A Girl and A Glue Gun:

I love a painted dresser – here's one with pop from Wray Sist3rs:
And how about a cute peplum top for girls over at How Do U Like Them Apples:
and………last but not least………….the MOST viewed link……………….
The Sea Penny Bracelets from Grow Creative – so cute!!
Thanks for linking everyone!! If you were featured feel free to grab the button: (oh, and if you were featured on FB, or if you're featured later this afternoon, you're included – grab away!!)
Thanks for checking out this post from www.SugarBeeCrafts.com – – click on over to read it in its entirety – you'll love it!