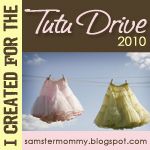 Have you seen the blog Samster Mommy?? She is doing a great drive to provide hospitals with dress-ups for the kids. How could I not whip up a few?? Click her button to find out more – her goal is 100 by the end of July, so you still have time to crank out a few this weekend and send them on their way.
I made 2 types of Apron Dress-Ups. I went with the apron style instead of elastic because I thought some kids might be sick in bed and a apron would be easier to put on. Anyways, I made the kind where you cut stripes and just tie them on to a sash. No tutorial because there's nothing do it. Here are my pics from that one:
It's an Apron Dress-up Skirt – let's get started:
Cut a rectangle of fabric as the base. Mine is that cheap satin – it's kind of hard to work with but has a fun sheen. Cut it the size you'd like – anything will work. Since this is just to play in, I serged around the 3 edges (leave the top) – you can hem it for a nicer finish.
Then you cut several pieces of tulle (the fine netting stuff) that are slightly longer and about 6 -10 inches wider than your base fabric. Once again, this is for dress-up, so I wan't aiming for perfection.
Sew all the tulle to the skirt at the top on the right side. As you do this, kind of wrinkle up the tulle – this will give it some poof. It's the lazy way to gather. You can see in how I did it in the picture below:
I used my serger again, so I didn't need to finish that edge either. But if you use a regular sewing machine, either wrap a ribbon or bias tape around the top edge, or turn it under, so it looks nice.
Then I cut 4 strips of tulle, layered them 2 and 2, and sewed each to a side of the waist of the apron. I zigzagged it on for additional strength.
That's it – sewing can be quick and easy! I enjoy how it ties in the back, for easy in-and-out dressing up.
I made another Dress-Up Apron using a tie-on strip method and my model wanted to wear that one as a veil – I guess that's the fun of dressing up!
Thanks for checking out this post from www.SugarBeeCrafts.com – – click on over to read it in its entirety – you'll love it!