I am really excited to be guest posting here on Sugar Bee Crafts! Thanks for having me Mandy! My name is Amy and I can normally be found over at The Idea Room. I can't believe that summer is just around the corner. Where does the time go? I love having the kids home but having them under foot all day does present some challenges. Even though there are a lot of fun things to do, my kids still have trouble fighting off the "summer boredom"

I really try to keep the kids outside and playing like we did when I was a kid. I remember going outside first thing in the morning and then coming in after playing night games well past dark. Here is a super easy activity that your kids and even most grown-ups will be sure to enjoy playing with all summer long.

Marshmallow Guns!


One of my favorite things about this project is that these can be made for pennies…really. We have made these for my son's birthday party and the kids had a BLAST!! And they each got to go home with a fun new toy. Not sure how their mother's felt about that…but hey, the kids had a great time. And they can be taken apart easily enough and hidden in the sprinkler supplies if needed!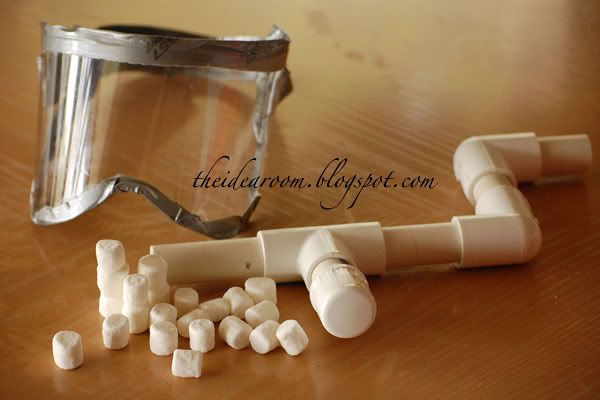 You will need:
a 12 inch length of 1/2 inch PVC pipe (sprinkler pipe)
1-1/2 inch end cap
2-1/2 inch elbows
1-1/2 inch T joint



Take your 12 inch length of pipe and with a hacksaw, cut off three pieces of pipe that measure
2 inches each and then cut two pieces of pipe that measure 3 inches in length.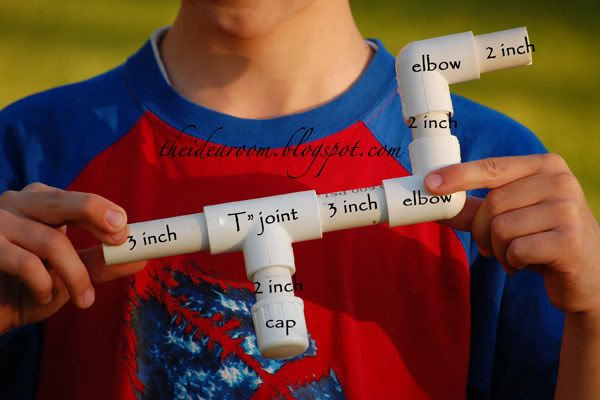 Take your parts and use the above picture to put them together to make your gun. This is a very simple gun style. If you want a different style, all you would need to do is buy a longer length of PVC pipe and some more joints depending on what shape you are trying to achieve.

To shoot the gun, you place a mini marshmallow into the end of the gun. Then blow on the other end and shoot the marshmallow at your target. They are amazingly accurate and addictingly fun! We have also busted these out at family get togethers too. I dare say the uncles might have enjoyed them even more than the little boys.

It is ALWAYS a good idea to have your kids wear safety goggles when using these guns, because everyone knows that it is only fun until someone gets an eye shot out!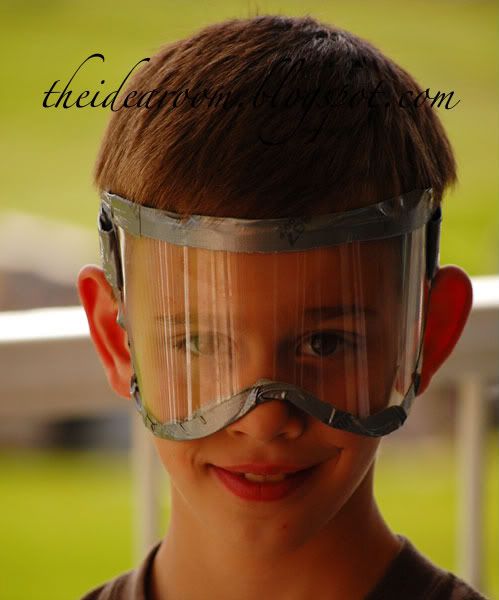 I did a little searching on the internet about making these marshmallow guns and found this great idea for making a pair of safety goggles out of a 2-liter soda pop bottle. I followed these directions but used duct tape to line the sharp edges and make the head strap.
To make the head strap, I simply folded about 20 inches of duct tape in half length-wise and then put another 20 inch piece on the folded piece and folded it in half also. So it was 2 layers thick. Then I just cut it to fit with a little extra on each end of the mask so it can be adjusted for different size heads, after I threaded it through the 2 slits I made on each side of the mask.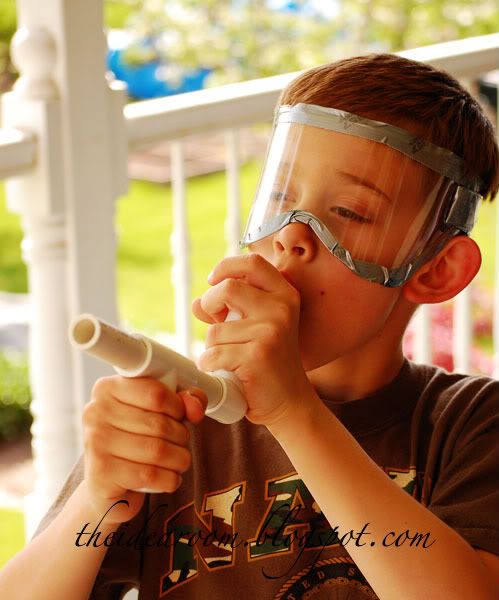 My boys spend a lot of time in the backyard having marshmallow wars.
They played with them so often that I never had any marshmallows left when I needed them. They buy their own marshmallows now!

Remember to be careful and make sure that the kids and adults are wearing eye protection when playing with these guns. I hope you enjoy them. Thanks for having me over Mandy!

Thanks for checking out this post from www.SugarBeeCrafts.com – – click on over to read it in its entirety – you'll love it!