This is a Sponsored post written by me on behalf of Rockin Refuel® for SocialSpark. All opinions are 100% mine.
I think we're doing pretty good trying to be an active family – most recently, I've been running with Trevor a few days a week in the morning before the kiddos wake up.  There was one day my oldest was up early, so he ran with me (and he's way faster than me).  And then there was a day off of school, so I ran later in the morning and took my 3rd grader with me (and she's faster than me too!).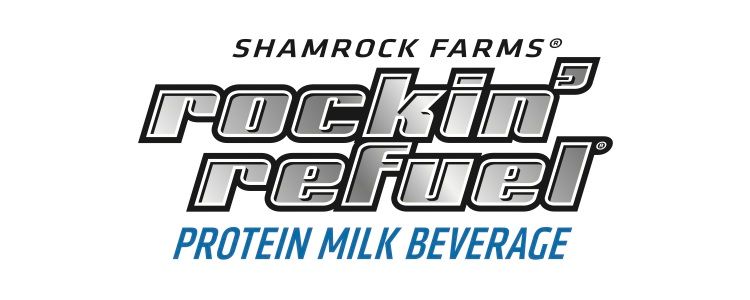 It gets a thumbs up all-around from our house!
"In addition to getting the right combination of carbs and protein, research suggests low-fat chocolate milk is a naturally nutrient-rich protein drink that helps you refuel and rehydrate within the critical two-hour recovery window after exercise.
Shamrock Farms® created the Rockin' Refuel® line to provide active individuals with delicious, natural protein beverages to deliver the best nutrition for their workout. Because it contains real milk, Rockin' Refuel is an excellent source of protein and calcium, and is the only protein beverage that boasts naturally occurring electrolytes. And it tastes great- not chalky like other protein beverages!"   – – Yep, we think it tastes great!
There are tons of Rockin' Refuel options so you can pick what's best for you.  And you can find it in the dairy section at Walmart – awesome.
The reason I'm more dedicated about running currently is because my 3rd Grader is participating in Girls on the Run.  I've been really impressed with the program – they meet a couple of weeks after school and practice running and have group lessons on self-esteem.  At the end, they all run a 5K – and the catch is they run with their mom (what did she get me into?!) so that's why I've got to practice up.
My 5th Grader is playing flag football again this year and Trevor's his coach again – they really enjoy it!
My first-grader just signed up to play basketball (and I'll be the assistant coach, cause I'm crazy), so that's some sporty fun to look forward to in the coming months.  Love that we can be a fun, active family and have options like 
Rockin' Refuel Protein Milk Beverage
 to refuel .
CONTEST TIME!!  you could win a Rockin Refuel prize pack (includes a case of Rockin Refuel Muscle Recovery, one drawstring gym bag, and one sweat towel).  Enter via the Rafflecopter below – – 
Thanks for checking out this post from www.SugarBeeCrafts.com – – click on over to read it in its entirety – you'll love it!