(each week readers like you get to pick favorites from the link party – if you want a turn all you need to do is email me and I'll send you the details: mandybeez at gmail)


Hi there! Lori from Eclectic Mamma here, and in retrospect, this was the perfect time for me to do the Reader Feature… it was just the impetus I needed to get back into blogging after my summer-long hiatus! I loved looking through the link party and all your awesome blogs! But, let's get down to business.


I loved this popcorn in a bag from Cheerios and Lattes! I have a problem with popcorn… mainly that my husband doesn't like it too much, I can't eat a full size bag without feeling sick, and the "single servings" are too small! This will allow me to make exactly the right amount… Why didn't I think of that?


I've got Fall decorating on the mind here, and while I'm sticking mainly with pumpkins, I love this gold leaf tree! It's the kind of project I'd think of, and then think myself out of because I wouldn't know if it would work… Bravo to The Sweet Survival for showing us the amazing results!


And along with Fall decorating, I love this paint chip and burlap door decoration from A Creative Princess. She mentions loving the simplicity of the plain embroidery hoop, and the simplicity of the whole look it what kept drawing me back to this project.


And can we talk about Fall decorating in October without thinking about Halloween? I want all my decorations to be easy and flexible, which is why I'm decorating with pumpkins this year (slap some vinyl faces, and they're jack-o-lanterns!). But, this DIY Spiderweb Cling looks so easy and fun, and I think my 3 year old would love it!


Pumpkin treat time! I think I'd be hard pressed to find a more perfect cookie than Pumpkin Swirl Sugar Cookies—with chocolate chips and marshmallows! Plus, her writeup is hilarious, because she made the cookies with her 5 year old nephew.


Pumpkin cheesecake… I've never made cheesecake (it intimidates me), but I have a friend who has, so maybe she'll make this for me… Or maybe I can convince my mother-in-law to make this when we go out for Thanksgiving this year!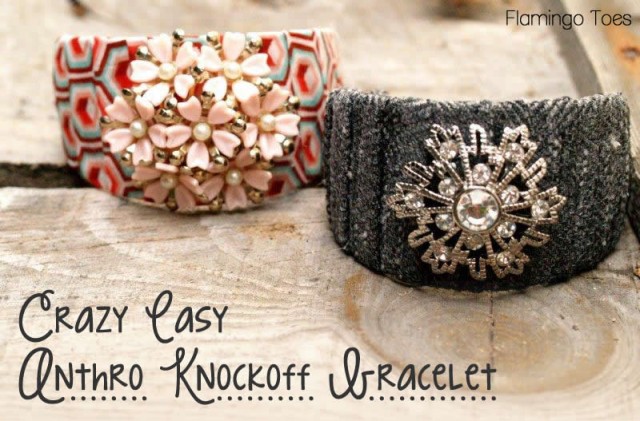 I can totally relate to Flamingo Toes' being out of the swing of things because of back pain… I love that she came up with these gorgeous cuffs that I could even do sitting on the recliner! (After I shop for metal cuffs. And awesome decorative pieces. Ouch, my hip hurts just thinking about shopping—worst ever!) These are so cute, and now I'm wondering if the metal cuffs can be bought in smaller sizes for cousin Christmas presents…


OK, one last holiday decorating post. This witch lamp is so clever and fun! Her tutorial is really well written with clear pictures as well, and just a dash of humor—my kind of blog!


Last, but not least, my next house project—a DIY scratching board so my eeeeevil cats stop scratching the couch! Totally clever idea, and of course I love that the cat in the "beauty shot" looks just like my Roy—all black with a red collar. I even think I have all the materials on hand…
Thanks for checking out my picks for the week! I'd love it if you stopped by on Facebook, Twitter, or Pinterest, and have a great week!
Thanks for checking out this post from www.SugarBeeCrafts.com – – click on over to read it in its entirety – you'll love it!