Remember, now each week a reader is going to feature some of you from the link party – -so fun! I'm already loving it!! If you want to head up a "reader feature", email me, mandybeez at gmail
Hi all of you wonderful Sugar Bee Crafts readers! My name is Christy, and I blog over at Christy's Cuties!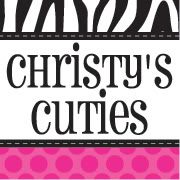 I am new to the blogging world, with only a few months under my belt. But, I have so many more bloggy friends and I am loving every minute of it. I am so excited to be showing off what I deem as "cuties". Shall we get started? Let's go!
Would you believe me if I told you they were made out of wooden sticks?? Yep!
Shameless plug….I am #375…in case you were wondering. HA!!
I hope you all have enjoyed my picks! Thanks so much to Mandy for having me.
Have a fabulous day!

Thanks for checking out this post from www.SugarBeeCrafts.com – – click on over to read it in its entirety – you'll love it!