Time to show off some fun projects from you! We are getting snow dumped on us – school was out and is out again today, so I enjoyed spending some time checking out what you've been up to. Here's what we've been up to.. sled sandwich:
And here's what you've been up to:
let's look at all those awesome projects one-by-one – here we go….
Cute burlap stitching from The Experimental Home – –
Adventures of a DIY Mom shows us how to make simple pom poms – I actually helped my daughter make a pom pom earlier today – small world!
I've said it before and I'll say it again – I love the Olympics. These bingo sheets from
30 Handmade Days
are perfect!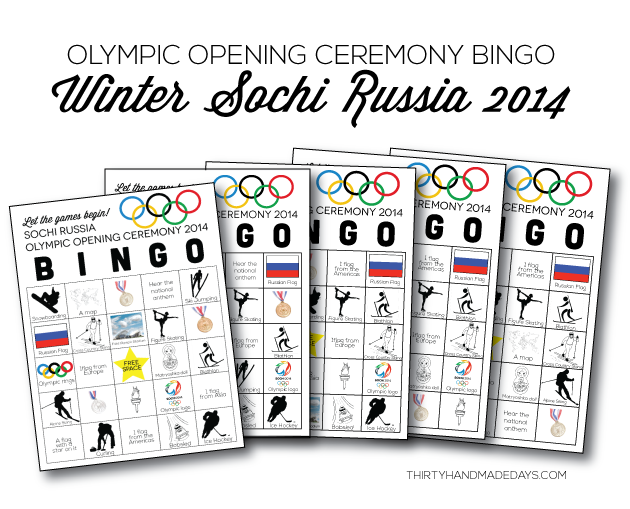 I can't get over this amazing XO quilt from Chocolate Dipped Quilts – so awesome!
If you're looking for Valentine Decor, this printable banner is a cute one, from Hello Little Home:
This towel is also a cute addition to decor – find the tutorial for it at The Seasoned Homemaker:
I love these pj pants from The Inspired Wren with the awesome cuff:
Or if you're in the sewing mode, how about a cute Valentine dress like Once Upon a Sewing Machine:
And apparently I have sewing on my mind because this bag jumped out at me as well – The Crafty Blog Stalker did a great job with it!
If you're not into creating a whole garment, how about just adding some sequins to an existing cardigan – this is awesome! from Kristina J.
These wire heart earrings are cute – I'd love to try to make some – the tutorial is at Hoops by Hand:
Remember, it's #projectcrochet month! If you're still thinking of something to make, maybe a hat for you guy is the answer – here's one from Night Owl Corner:
Need a fun Valentine Game? A Girl and A Glue Gun has you covered with this one:
Love this triple heart wreath over at A Little of This A Little of That – so cute!
and…..most viewed link………. the dinner rolls from Adventures of a DIY Mom – I want to make these!
Thanks for linking everyone!! If you were featured feel free to grab the button: (oh, and if you were featured on FB, or if you're featured later this afternoon, you're included – grab away!!)

Thanks for checking out this post from www.SugarBeeCrafts.com – – click on over to read it in its entirety – you'll love it!