I had the opportunity recently to review the GO! baby cutter – LOVED it! (see all the products at accuquilt.com).
First off – SO easy to use. Right out of the box I was cutting fabric within couple of minutes. You just place your fabric over the die, cover with the clear mat thing, and roll it through the cutter. Voila! You can double stack fabric with no problem.
Secondly – SO portable! We have a family craft night with aunts and cousins once a month. So last minute I decided to make some quilt pieces while I was there and I just grabbed my little Go! Baby cutter and stack of fabric and headed out the door. See – having fun at my aunts house:
Now, the Apple Core Die I received…. my cousin wondered why I was cutting a whole stack of maxi pads…but they're apple cores!! I can't imagine cutting pieces with curves like this by hand; trying to get each exact would be a nightmare. Everyone had an opinion on my layout:
Here's the order we ended up with – the die has built-in matching triangles – so awesome. So each valley or hill is marked in the center, so when you sew them together you line up the marks – how smart and easy is that!?!?
Now of course when I got home the kids ran through my carefully placed arrangement, so it ended up different – oh well. Here is my quilt top sewn together – you just sew one row at a time, then sew all the rows together:
To bind it, I cut all the edges flat, then wrapped the back fabric around for the binding – worked out pretty well. Not 3 months ago I made my first quilt, and now I've cranked out a third – this could get out of control pretty quickly….
To quilt this one, I just followed either side of the seam on the apple core shape. Love the lines on the back:
And here she is, all folded nice and neat – –
I love the die shape on this quilt and it's something I NEVER would have attempted without the GO! Baby cutter.
Stay tuned later today to see which other die I got and what I've made with it…. think non-sewing project….
But for now, did you know that you can sign up to receive 22 FREE Patterns from AccuQuilt – it doesn't get better than free! Just click this button: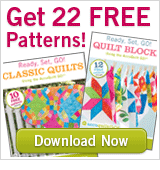 Also, they are hosting a super fun giveaway – here's all the info on that:
Camp
Quiltalong
Prize Giveaway
Join in some campfire fun for a chance to win great prizes totaling over $1500! Fons & Porter, Fabric.com, and AccuQuilt have teamed up to provide us all with a huge giveaway on Facebook. Simply "Like" these Facebook pages and gain access to all three sections of a secret code that unlock your chance to win! Follow the camp trail on the bottom of each sponsor's page and it will take you to the next campground to retrieve the next section of code. Once you've captured all three pieces of the secret code, go to www.accuquilt.com/indianblocks and enter the full code to register to win!
Thanks for checking out this post from www.SugarBeeCrafts.com – – click on over to read it in its entirety – you'll love it!