Another installment of Building Beyeler Hollow, where you can follow along as we self-build our own home.  So you know we designed our own plan knowing that we could build it ourselves.  Very simple design, just a basic rectangle.  But that's not all we did to ensure we could build it ourselves – we looked into several Alternative Framing techniques that are very appealing to the DIYer.  The three things we considered were ICF, SIP, and Stick Framing. {spoiler alert – our house is made out of foam!… read all about it…..this is not an April Fools Joke!}
Stick Framing is what you generally think of when you picture a home being built.  2x4s put up one-by-one.  Great for a home-building crew, but for a self build we didn't know how practical it would be – we thought it would take forever.  It's very labor intense and the least energy-efficient option (and if we did use it, we were going to do 2×6 walls for that reason)
The home structure is made up of individual pieces of dimensional lumber (often called "sticks") and they are field assembled, requiring the most labor.   Advantages to this system include field flexibility for changes, universal labor and material availability and no special equipment required for erection.   Disadvantages include labor intensity and difficulty in making the house "tight" or having low air infiltration through the envelope.
ICF, Insulated Concrete Foam is like big legos.  They are foam blocks that you stack and when you get it all stacked, you fill the inside of the foam with concrete.  I had heard about ICF blocks and we were very intrigued and thought it might be the way to go.   The kids love legos, so they'd love helping, right?! We liked the ease in building and energy-efficiency, but we were worried about getting a giant cement truck back in to the property, etc.
ICF assemble as interlocking hollow foam blocks that are then interlaced with reinforcing steel and filled with concrete.  Advantages of ICF construction include their strength, quietness, high insulation value and inherent envelope air tightness from having no joints.   Disadvantages include specialized materials and installation labor, higher cost, and requirement of a flame resistant finish like drywall in occupied areas such as a basement. Also with this system it is difficult to make field changes or post construction changes.
SIP, Structural Insulated Panels is a building technique where 4×8 panels of your house are premanufactured and come ready to line up and hook together.  They consist of an exterior of plywood, interior of solid foam, then another plywood piece, kind of like an oreo.   So you send them your house plan, they cut out all the doors and windows, etc, then send you back all the walls to stand up.  This is what we ended up going with – it seemed the most logically choice and it's super energy-efficient.
SIP panels are pre cut from computer drawings and field delivered in a numbered and stacked order. The panels are made from a foam,  laminated between two layers of structural oriented strand board (OSB). The panels themselves are airtight, extremely strong and highly insulating.  Advantages to SIP construction include reduced construction time and improved construction efficiency. They are extremely strong, have extremely high insulating qualities, are air tight and erect quickly. SIP panels have chases for horizontal and vertical distribution of electrical.  Disadvantages include specialized materials, erection equipment (crane/operator) and installation labor. SIP construction also requires a sealing of the panel joints. Also with this system it is difficult to make field changes or post construction changes.
(Home structural system info found HERE.  Also, Ana White debated the same 3 options that we did, on her post HERE and they decided on ICFs HERE – just in case anyone out there is debating and wants to hear other viewpoints, etc.)
Now comes the ironic thing.…… we chose SIP because it was a system we could DIY and install.  We had it narrowed down to a couple of different manufacturers, and while we sent in our plans for them to bid on we also asked for a bid on labor, you know, just to see.  Meanwhile we mention to our concrete guy about SIP labor crews coming in from out of town (like several states away) and he happens to know a local guy who is a dealer and installer for SIP panels – they're still a new up-and-coming thing, so that was pretty crazy that one was local.   Long story short, we were already feeling crunched for time and we ended up hiring out the framing.  It obviously went faster than we could have, but we hoped it would have gone faster.  But anyways, I'm jumping ahead of myself!  Back to the story at hand – we choose SIP panels and are happy with that decision.  It's a great way to put a house together!  And now we can say our house really is made of foam: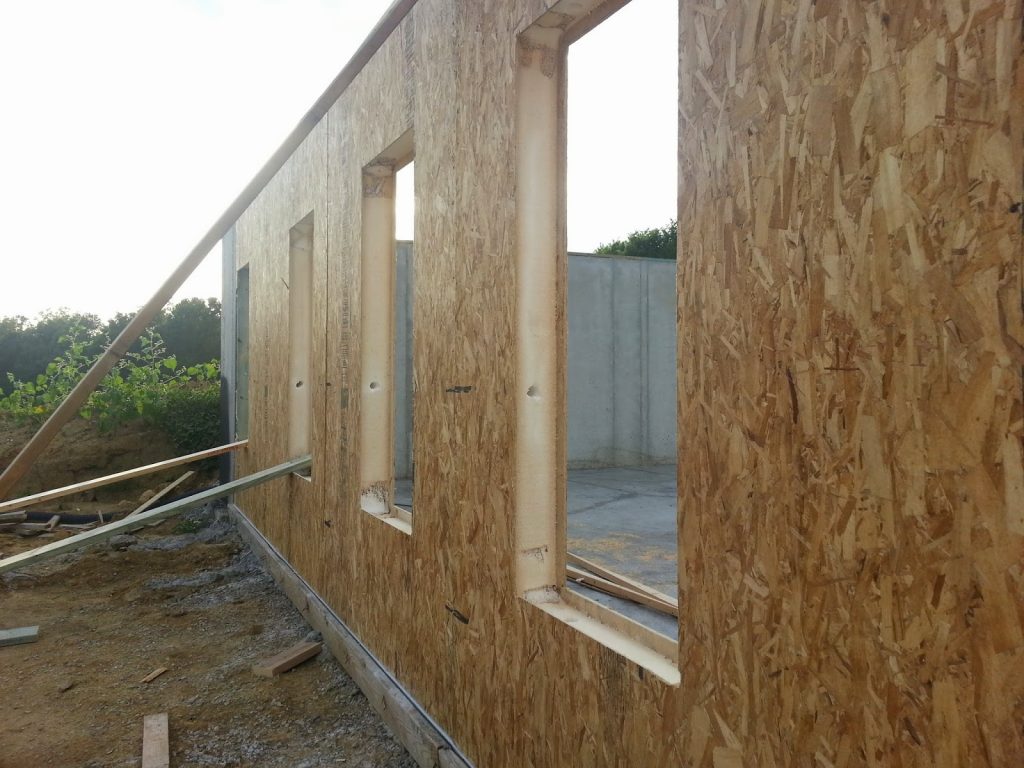 More info to come in later posts about the delivery and install of the panels – but first, we have to talk about things like digging our house site and pouring the foundation and the rain waterfall issues….