We recently took family pictures – I'm sure I'll show them off sometime as I aim for Christmas Cards…
Anyways, our colors were red and gray. I wanted someone in solid red – I bought a shirt for my daughter, but I didn't love it. So I decided to sew one up for her. It wasn't quite what I had in mind, but pretty close – I was limited to the patterns that were on sale that day.
I wanted something Tunic-ish, so I went with Simplicity 2689 – – the only problem was it started at a size 8 – I think my daughter is a 6 at most in patterns, but I just tried to cut it down some. I even made the belt, although in the above picture it had kind of slipped down a little – I liked her to wear it about 4 inches higher.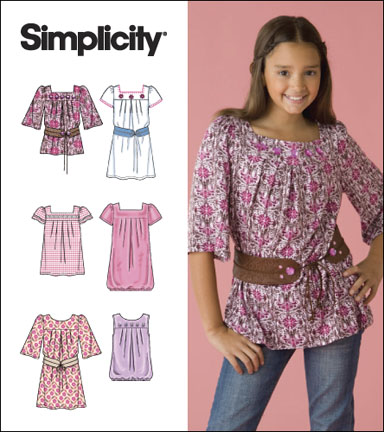 Anyways, I impressed myself with the construction. It went together easily and I did it all on my own (sometimes I have to call my mom to interpret patterns for me!). I like how the sleeves bell out and the vintagey feel of the yoke neckline. It took an hour at most, start to finish and was fun to make. I only used a yard of fabric, so the whole thing cost about $3 (it was cheap walmart fabric, except for the belt houndstooth which was a small cut, on sale at Joanns).
I should really do things like this more often!

Thanks for checking out this post from www.SugarBeeCrafts.com – – click on over to read it in its entirety – you'll love it!