Um, great minds must think alike – – or Kids GAP is knocking off my blog…..
I was in there the other day and saw this skirt: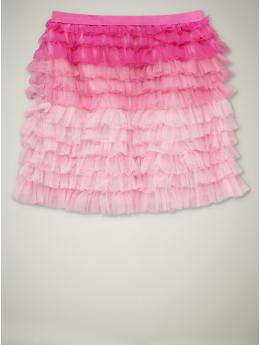 Now, if you've been a long-time follower, I'm sure you're already thinking, hey, SugarBee made that same skirt a couple of years ago (feb, 2010) – and you'd be right, see (um, ingore the crazy picture – this is apparently the best shot of the "ombre" look – you're looking at the daughter on the left)
I went light down to dark – they went dark down to light. I'm sure so that they could say they didn't copy me 🙂 My tutorial of the Pink Fluff Skirt is HERE.
Mine, $2.75 GAP, $34.95
Thanks for checking out this post from www.SugarBeeCrafts.com – – click on over to read it in its entirety – you'll love it!