Hey Ya'll! My blog is called Apples By Ashley, and as you may have guessed, my name is Ashley. I like to do a little bit of everything, but mostly I share a bit of sewing, diy, fashion, paper crafting, jewelry and about my escapades thrifting and refashioning my second-hand clothing. I am so glad I got the opportunity to co-host Take-a-Look Tuesday with Mandy and to feature some of YOU! I am inspired by all of your creativity; it is a delight to rub shoulders with such awesomeness 🙂 Let's get started…

I enjoy making cards, well, actually I LOVE it! And because I love utilizing my paper creativity to make whatever color/shape/size card I feel like, I am a sucker for a custom, coordinating envelope. Katie, from
The Crafty Blog Stalker
, put together a great round-up of
18 Different Paper Envelopes
.
Sometimes I dream of organizing and beautifying my HUGE craft supply stash, but alas, it has yet to come to pass (especially since we've practically moved twice in the last 6 months). But Kelly, from
My Sophia Ryan
, has got her groove on in the craft organization department. Her
Craft Organization Inspiration
post is definitely inspiring!
Let's face it, making a garment for yourself is not always our top sewing priority. I love that Elizabeth, from
The College Seamstress
, took the time to sew-up a couple of cute tops for herself. Check out the loveliness on her post,
The Casual Lady Top
.
I have always wanted to make a pvc 'car wash' for Widget, my daughter, but felt so lost when it came time to start shopping for supplies. I'm so grateful for people, like Adina from
The 5th Brick House On The Right
, because they make specific lists and instructions that are easy to follow (not to mention the cost breakdown…which is a plus in my book!). Check out her
Improved! Car Wash Sprinkler for Kids!
It's amazing what paint can do to change a room. It's also amazing what white paint can do in a kitchen. Check out the before and after pictures (
Mom's Kitchen Cabinet Makeover
) on Erin's blog,
How To Nest For Less
. She transformed her parent's kitchen from blah (and yellow) to fab (and bright).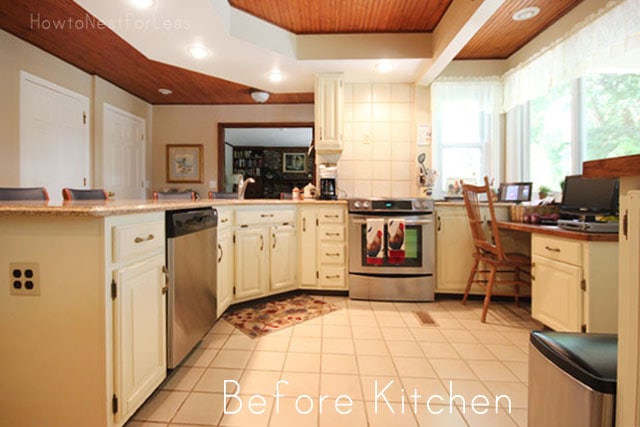 With a Widget (5 year old girl) at our house, we know a thing or two about princesses. And, you can't forget about princess dresses! Melanie, from
The Crafty Cupboard
, made a couple of pretty princess dresses for her girls so they could attend Princess Camp in style (I want to go to Princess Camp!). I think the coordinating skirt panels, showcased in the post
Princess Camp call for Princess Dresses
, are just perfect for the occasion!
And as we are nearing that magical time, called back-to-school, my thoughts have been drifting to scenes of me (in my robe) bounding into the kitchen pantry looking for cold cereal, only to find the bag empty…and not knowing what else to feed my wanting child before rushing her off to school. I hope this scenario has never happened at your house, but just in case, I wanted to feature a few yummy looking recipes that would be great to have up your bathrobe sleeves in case of emergency (or just because they would be awesome anytime).
'Made Ahead' is a phrase that I've been drawn to as of late, and these waffles fall right into the nifty category. Krystal, from
My Life Of Travels And Adventures
, shares a great recipe for
Vanilla Waffles,
that you can freeze and reheat in the toaster when you are ready to feed the
wolves
kids.
Raise your hand if your kids like doughnuts…Now raise your hand if you
love
doughnuts. Me too! But, I'm afraid eating doughnuts on a regular basis would give sugar highs and thick thighs, so they do not grace our table too often. But, maybe these drool-inducing homemade doughnuts would kill the crazy-bad-doughnut cravings! Check out Andrea's guest post on
My Thoughts for Thought
about a
Baked Banana Chocolate Chip Doughnut Recipe.
A BIG thank you to everyone who linked up their amazing projects–I enjoyed looking through all the links and seeing what brilliant creativity is dancing around blogland.
And thanks again Mandy for the opportunity to co-host and to feature some amazing talent from Take-A-Look Tuesday!
Thanks for checking out this post from www.SugarBeeCrafts.com – – click on over to read it in its entirety – you'll love it!