Hey Everyone – – I know it's Guest Post Extravaganza, but I just can't stay away!
I wanted to pop in just for a second as part of Crafty Cornucopia – it's a Paint Craft Challenge and later in the week you can link up to win a prize…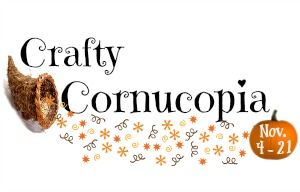 Paint — what a fun challenge – such a broad topic! I need a good pair of red earrings (since the holidays are coming up and all), so of course I turned to paint…here's what I started with:
And obviously I have a thing for craft paint:
So grab some craft paint ( I picked a deep red, of course) and paint a quick coat on. Let dry in between coats of paint. I ended up doing 3 coats of color:
And then this is where I have a tutorial fail – because I didn't even take pictures of the other steps – oops! But I'll talk you through it – – after the coats of color, I painted a coat of glitter paint (the Martha Stewart version – it worked great with it fabulousness in sparkle) and after that dried I painted a coat of Mod Podge over everything so the glitter won't flake off.
After they're dry, just assemble the earring pieces and wear with pride! I should avoid having kids take my picture (because it's an awful angle) but whatcha gonna do?!
So there you have it – my super simple, super fun paint project:
Don't forget to come link up with one of your awesome paint projects. Paint can be involved in almost any project, so sky's the limit on this one!
Linky Party Code:
Thanks for checking out this post from www.SugarBeeCrafts.com – – click on over to read it in its entirety – you'll love it!