You've heard of hair feathers, right?? How about Hair Tinsel?? (that's later in the post – keep reading!)
Did you know that you can put them in yourself – SO easy!!!
First up, Hair Feathers:

So, the kind I got aren't actually feathers – they're better if you ask me. They're hair extensions, dyed bright colors. I got them from The Button Smith on Etsy. Info from them:
Here they are, what you have been looking for Cruelty free grizzly hair extensions. These are a perfect substitute for feather hair extension. These are made of regular hair extensions that are dyed and colored, so no animals were harmed in the production of these extensions.
They are brand new condition.
Can be blow dried, curled, and straightened on low temperature, but for the best curls we recommend you pin-curl it while it drys.
Wash just like normal hair, but would recommend using shampoo for colored hair.
What you do is take a small section of hair, thread it through a bead and push the bead up against the scalp. Then stick the bound end of the feather into the bead (I cut the bound end of the feather in half – it was a little long and I didn't want it poking heads). Then grab some pliers and smoosh the bead flat. If it's too long for your hair, just trim the extension ends. That's it!
My girls and all their friends have them. And I joined in on the fun!
You can wash and style them just like hair – here you see it winding through her hairdo:
At salons, you'll pay $12-15 to get one put in. But did you know they're so much cheaper?!?! At The Button Smith, you can get a
pack of 5 feather alternatives
, including 5 beads, for just $8.50. Only $3 to ship it, so that makes it come to $2.30 each – great price! Or if you know a bunch of people you could all go in together and
get 20 for $28
– awesome, right?!? So check out
The Button Smith
for all that….
Are you noticing I'm sporting a hair feather AND tinsel??
Hair Tinsel
What's tinsel – I think it's the next big thing! It's thin strands of tinsel, but for use in your hair – you can style it just like hair, wash it, etc.
I got my hair tinsel from the Art Wildflowers shop on Etsy. I love the little extra bling factor.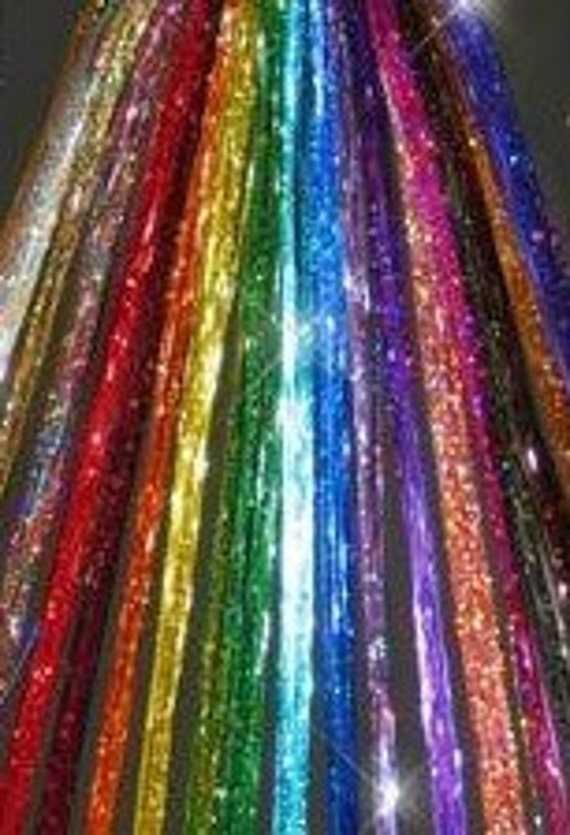 Info from them:
NOTE – the SHINY hair tinsel is usually about half as thick as the SPARKLE,
so if you want a slightly more subtle look, then the Shiny type is what you want…
If you want real "knock-'em-dead-BLING" then go for the holographic sparkle type!

This is TOP-OF-THE-LINE silk metallic hair tinsel (sometimes called "Bling String" & "Hair Flair"). This is a QUALITY product that can be washed, conditioned, curled & even flat ironed (to 400 degrees). I even have friends that dye their hair while wearing it!

It was developed by Hair Stylists & you see it worn all the time by Hollywood & rock stars. It's SUPER-FUN for Adults, Teens & little Girls have a blast wearing it too! It's great to wear to a rave, party, wedding, night on the town, or even with your every day blue jeans!
I like the Holographic ones – they're thicker and really shiny: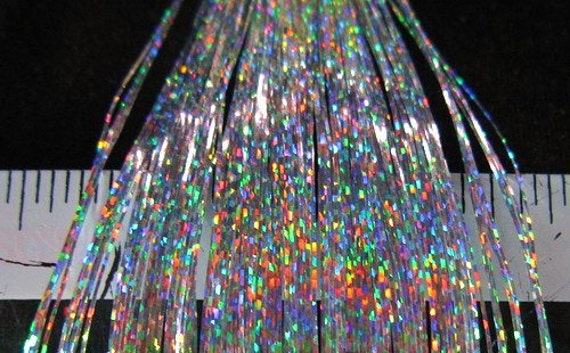 Now remember, hair tinsel is like a strand of hair – they're pretty thin. But you don't need much for that extra kick. One strand is really long, so I took one strand and folded it in half, then in half again, so in my hair it looks like 4 strands but it came from one long strand.
Once again, super cheap to buy these and do it yourself. They come with instructions on how to tie them into your hair, or you can use them with your hair feathers and smash them into the bead thing.
You can get 8 holographic strands for $4.00, plus $2 shipping, so $0.75 total for each person. That's a deal! Or get a bunch of people together and you can get 20 (choose your own colors) for $7.50 – Awesome!
So hop on Etsy, and get to ordering!!
Hair Feathers: The Button Smith
Hair Tinsel: Art Wildflowers
they both sent me product to review for this post, but all opinions are mine, and I'm already ordering from them again!

Thanks for checking out this post from www.SugarBeeCrafts.com – – click on over to read it in its entirety – you'll love it!