Hello there! My name is Chelsea from Life With My Littles and I blog about pregnancy, babies, and recipes for the family. Today I get to share with you this pretty, delicious, and easy layered Patriotic Jello Salad!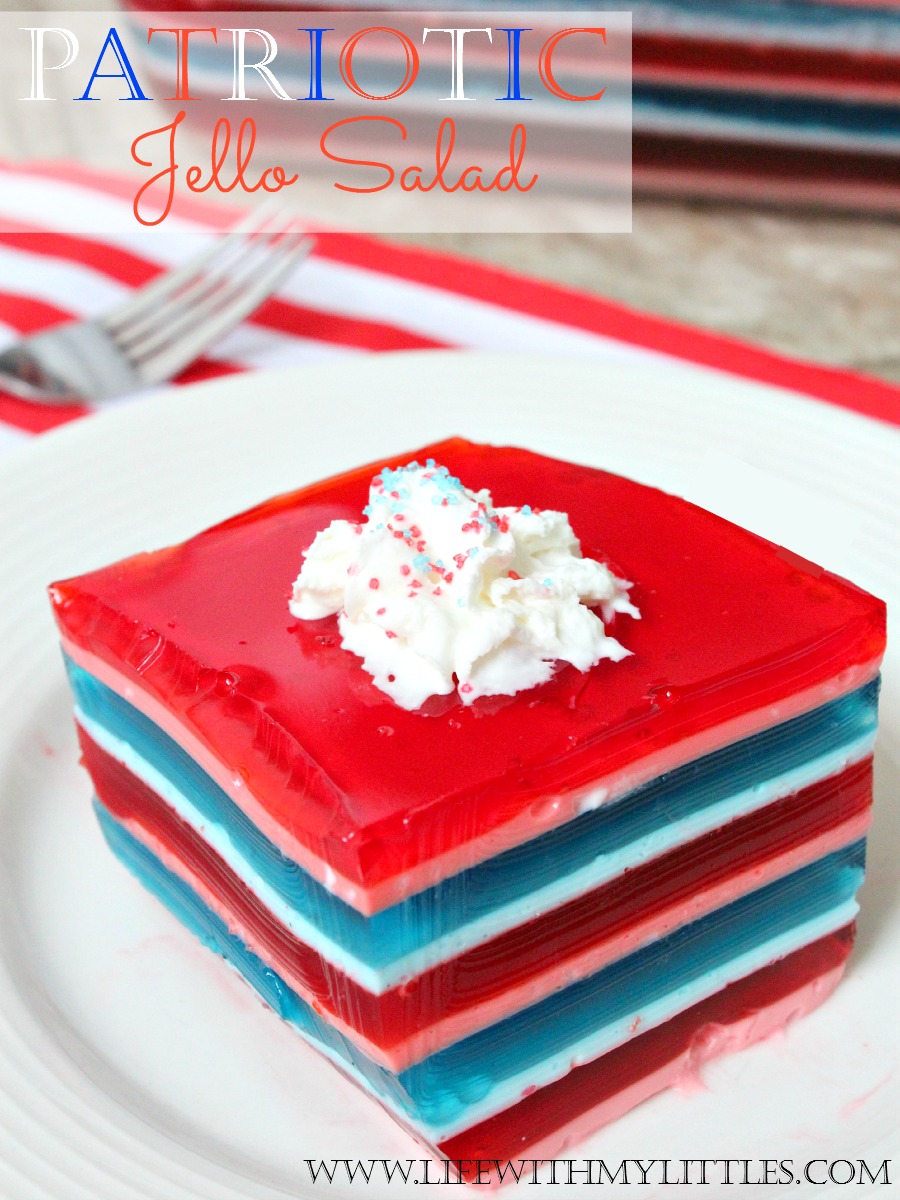 My mom used to always make this recipe for holidays, and when I found out how easy it was, I knew I was going to make it all the time. The color/flavor combo is really up to you, so it works for pretty much any holiday or celebration!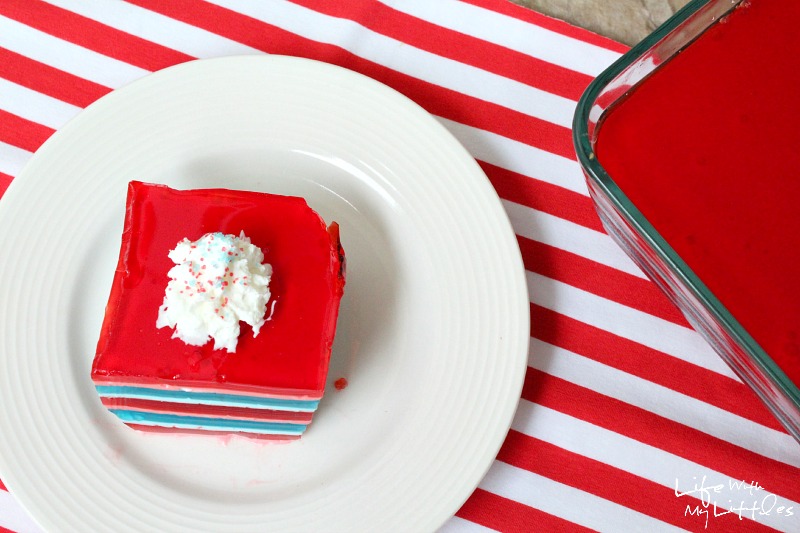 You only need two ingredients, and even though it takes a while to let each layer set, I promise it is so worth it! This dessert is always a hit, and it's perfect for Fourth of July barbecues!
Ingredients:
5 (3 oz.) packages of any flavor red and blue Jello
1 pint sour cream
For my layers, I used 2 Berry Blues, 1 Cherry, 1 Strawberry, and 1 Raspberry, but if you wanted to stick with only two flavors, you could easily just do 2 Berry Blues and 3 Strawberry.
Instructions:
1. Mix 1 cup boiling water with one package of Jello until dissolved.
2. In a separate bowl, mix 1/3 cup of the Jello mixture with 1/3 cup sour cream. I would recommend using a whisk so you mix out all the clumps. Pour the sour cream mixture into a 9×13″ pan and put it in the fridge for 30 minutes to set.
3. Add 3 Tbsp. cold water to the remainder of the Jello after you put the sour cream layer in the fridge to set.
4. After 30 minutes, slowly pour the rest of the Jello over the sour cream later. Let set 20 minutes in the fridge.
5. Repeat steps 1-4 with the rest of the flavors. Enjoy!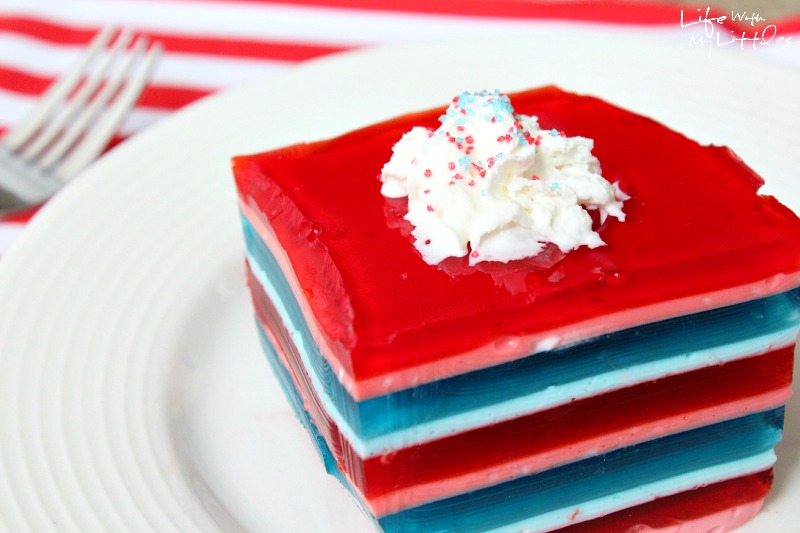 See, I told you it was easy! And people will always be amazed at how yummy and pretty it looks.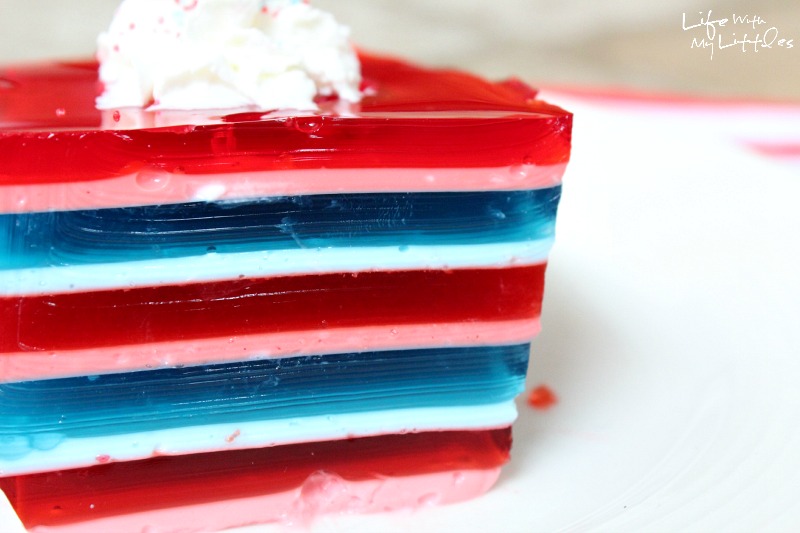 It serves up super easy, and leftovers last for a few days if you cover it in the fridge (if you have any leftovers!). It really is the perfect dessert for Fourth of July barbecues, and people will definitely be asking you for the recipe!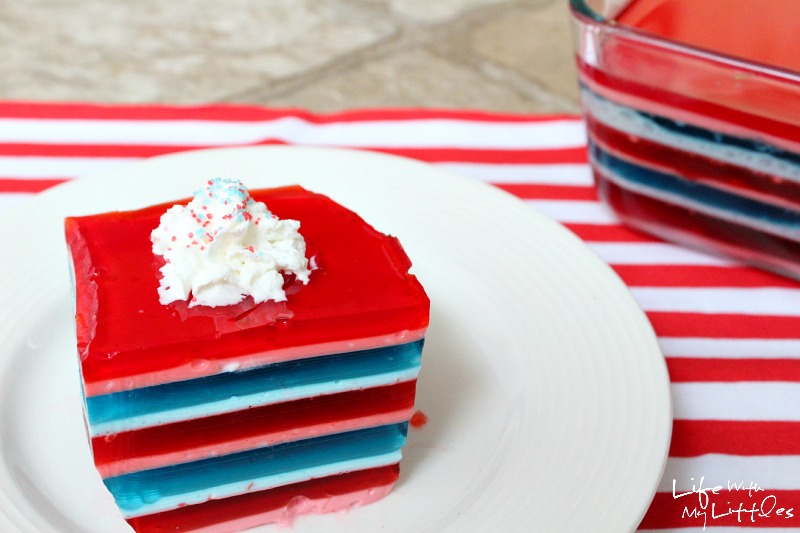 Thanks to Mandy for letting me come share this patriotic dessert with you guys! If you want more yummy recipes (or tips on pregnancy and raising babies!) check out my blog at www.lifewithmylittles.com. And if you loved this recipe, you'll love this S'mores Cake!