Not only is May for Mother's Day, it's also the season of graduations! By now, it's prime party time and within the next 7 days I have five – count them, F-I-V-E graduation parties to attend. Such. craziness. That brings us to this week's round up post, in case you're like me and need some ideas for graduation gifts. Hopefully  I can help you find the perfect gift to whip up for your graduate too!
A laundry kit is GENIUS! For real though – this is perfect for any graduate, high school or college level!
Money gifts are always a win, especially when you can get creative with it! Love this Graduation Glass Bottle idea from Michelle with Crafty Morning.
Dr. Seuss's "Oh The Places You'll Go" is like the unofficial official book for graduates, which is why I seriously love this plaque!
This College Survival kit is pretty cool – and would be to easy and cheap to put together!
Here's another great idea – Tumblers with a gift card inside! See exactly how it' done by clicking here.
Here's a super fun Money Wreath I made, perfect for any graduate. Wahoo! 🙂
I love this Money Lei – so cool right?! Thanks for the great tutorial Lilluna!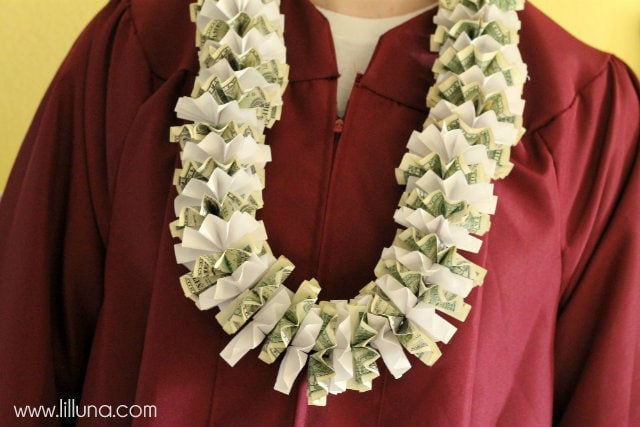 Speaking of Lei's, check out this Candy Bar Lei – Yummy! Check out the step-by-step instructions here!
Christy from Thrifty and Thriving always has such cute ideas, and I know this is technically a back to school gift, but I think it would be so fun for a graduation gift too!
I can't get over these Origami Money Graduation Caps! They look like so much fun to make. I can't wait to try one out!
Have you ever thought about making a memory quilt for a graduation gift? They are so popular, and such a nice way to reminisce.
This A&W Root Beer gift to too cute and super clever! Thanks for the free printable and great idea Leslie Miller!
Here's another simple way to give money, but also thoughtful – a Water Bottle full of quarters!
A Money Bouquet is such a fun and neat idea! Thanks for the sweet idea Marcia!
Our good ol' friend, the mason jar, always comes through for us! Check out this Graduation gift using a mason jar!
Here's another genius idea from Busy Mom's Helpers. I can't help it, this one is too good to pass up!
Cookies are my thing…and so are free printables! Thanks Kyra!
I hope you found some ideas that you liked – I know I sure did! Now, I must go so I can get prepared for these grad parties!